VM Design nasce nel 2004 dalla collaborazione dei designer e docenti internazionali di Floral Design Vincenzo Antonuccio e Marilena Calbini.
VM design is born in 2004 from the collaboration between designers and international professors of Floral Design Vincenzo Antonuccio and Marilena Calbini.
Questo sodalizio artistico si contraddistingue in particolare per la complementarietà dei due designer che, pur provenendo da esperienze professionali e formative differenti, hanno scelto di unire le proprie peculiarità stilistiche in un team vincente, di grande personalità e fortemente visionario. Progetti di grande impatto stilistico firmati da VM caratterizzano lussuose ville, residenze e resort in prestigiose location nel mondo, dove la ricerca del design e lo studio dei dettagli creano atmosfere uniche e suggestive.
This artistic partnership stands out mostly for the complementarity of both designers who, although the differences of their professional and formative experiences, have chosen of combine their stylistic peculiarities in a winning team, with a great personality and strongly visionary. High impact design signed by VM characterizes luxury mansions, residences and resorts in prestigious locations around the world, where the research of design and the study of details create unique and suggestive atmospheres.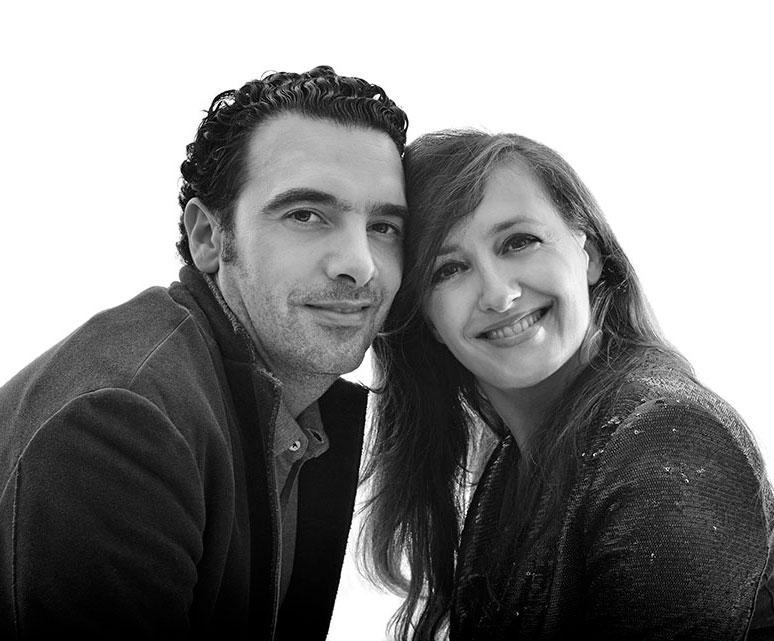 La mission di VM Design
La mission di VM Design è quella di realizzare collezioni di prodotto dal sapore contemporaneo e innovative, oltre a progettare ambientazioni complete e coordinate, capaci di coinvolgere, emozionare, commuovere e stupire. Un nuovo concetto di living, basato non solo sull'assolutismo dei singoli articoli, ma sulla proposta di uno stile intrigante attraverso vere e proprie scenografie dove elementi cromatici, materici e dimensionali danno vita ad una più globale ed emozionale interpretazione dell'arredo.
Vincenzo e Marilena disegnano e creano prodotti e collezioni da un sapore diverso, singolare ed insolito. VG Newtrend, Aston Martin Interiors, Mercedes Benz Style, Brummel Cucine, Faoma e Visionnaire Ipe Cavalli sono le ultime aziende a cui hanno dato il loro apporto come designers.
The mission of VM Design
The mission of VM Design is make collection of product with a contemporary and innovative taste, as well as design complete and coordinated settings, able to involve, excite, move and amaze. A new living concept, not based only on absolutism of single articles, but on the proposal of a charming style through real scenography where chromatics, materials and dimensionals elements give life to a global and emotional interpretation of fitment. Vincenzo and Marilena design and create collection and products with a different, singular and inusual taste. VG Newtrend, Aston Martin Interiors, Mercedes Benz Style, Brummel Cucine, Faoma e Visionnaire Ipe Cavalli are the last companies to which they give their provision as designers.
Oltre 150 i brevetti di prodotti in commercio
Sono oltre 150 i brevetti di prodotti in commercio nel settore dell'arredamento e dei complementi studiati e progettati da VM Design. Nel 2019 raggiungono l'apice della loro carriera essendo designati a rappresentare l'Italia alla Coppa del Mondo di Philadelphia, l'evento quadriennale più prestigioso al mondo, portano per la prima volta nella storia l'Italia nella Top10 mondiale.
Over 150 patents of products in trade
There are more than 150 patents of products in trade for furniture and complements field, studied and designed by VM Design. In 2019 they reach the edge of their careers being designated to represent Italy at the Philandelphia World Cup, the 4 years most prestigious event of the world, bringing Italy into the World Top10 for the very first time in history.
Dal 2021 ALE import si avvale della prestigiosa consulenza stilistica di VM design, dove l'influente ufficio creativo in qualità di art director, apporta con eleganza e raffinatezza, qualità, innovazione, design e cultura alle nostre collezioni.
Since 2021 Ale Import avails of the prestigious stylistic consulting by VM Design, where the influential creative office as art director, gives quality, innovation, design and culture with elegance and refinement to our collections.